Oct 12, 2017 17:06

Only two persons for The Magnum Workshop in Bangkok 2017 Tuesday 28th November ~ Saturday 2nd December

Aug 10, 2017 06:48

วัตถุประสงค์ของการจัดกิจกรรมนี้ ต้องการสื่อความหลงใหล มนต์สเน่ห์ของคำว่า Street Photography พร้อมทั้งแนะนำมุมมอง ทัศนคติ การถ่ายทอดสื่อสาร ตลอดจนความเข้าใจและแยกแยะความแตกต่างของภาพได้

Aug 01, 2017 10:59

วัตถุประสงค์ของการจัดกิจกรรมนี้ ต้องการสื่อความหลงใหล มนต์สเน่ห์ของคำว่า Street Photography พร้อมทั้งแนะนำมุมมอง ทัศนคติ การถ่ายทอดสื่อสาร ตลอดจนความเข้าใจและแยกแยะความแตกต่างของภาพได้

Apr 02, 2017 16:23

ภาพกิจกรรม Street Photography Workshop: "กัดไม่ปล่อย ไม่ได้ไม่เลิก" โดย บอล+ไอซ์ วันที่ 17-19 มีนาคม 2560

Mar 21, 2017 21:00

MENTOR'S PICKS STREET PHOTO THAILAND WORKSHOP#4 17-19 MARCH 2017

Feb 10, 2017 10:19

Happy Valentine's Day!
We are...
---
For the very first time, 11 street photographers, including 7 established names from Street Photo Thailand and 4 masters, come together to create a series of refreshing street photographs that focus on sharp ideas and the courage to create something different. This group aims to promote and elevate Thai street photography to both national and international levels
Read more...
Featured Photographer
---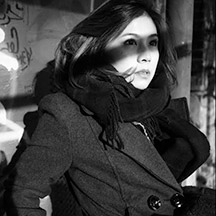 Sirima Chaipreechawit was born in Bangkok, Thailand in 1988 Her photography has been originally created from her passion in black and white. She has been fascinated by the path through the streets and alleys that allowed herself to be fully expressed. She always travels and tells stories of what she saw through the nature of her photography. In each of her expeditions, she would be lost among her emotional self, places and people she met along the way. In the midst of that moment, her profound creativity would be created and produced a powerful identity in her photography, in the way that has always been described by her faithful audience...
NO[W]HERE MAN
OLD BROWN SHOES
LONG LONG YALA
DANSE MACABRE
Street of the Month
---